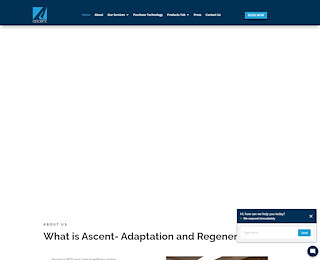 We, at Ascent Adaptation and Regeneration believe biological processes, particularly the metabolism of each and every cell, are significantly impacted by electro-magnetic-energy. Only when an organism is sufficiently supplied with energy can the self-regulating and self-regenerating mechanisms of healing occur. Imagine your body is a battery … stressors of everyday life slowly drain your body of the energy it needs to function at optimal levels. By the end of the day, you're most likely mentally, physically, and emotionally depleted. This is where we believe PEMF (Pulsed Electro Magnetic Field) Therapy is truly relevant! PEMF re-charges your internal battery with the energy it needs to be restored.
What makes the PEMF Therapy we Incorporate into our Technology offerings at Ascent so Different?
Its working mechanism consists of the transmission of a PROVEN and patented multi-dimensionally configured signal (waveform). This unique signal is transmitted into the body via PEMF, meaning that it is the signal and not the electro-magnetic field acting as the "agent" that stimulates the circulatory response. In layman's terms, the device functions through a very low level of energy (patented signal) that is absorbed during an 8-minute session. This signal allows the body to increase and regulate the micro-circulatory system and blood flow. Without proper blood flow,our bodies cannot properly support themselves to maintain ideal levels of health. These tiny "micro-vessels" comprise 74% of blood vessels found within the circulatory system. They are the transportation vehicles of the blood (nutrients, oxygen and waste removal) to most every cell in the body.  
The therapy is carried out using the whole-body application mat and various accessories, following a predetermined usage plan. It may be applied twice daily either in a professional setting or at home.  
How can I find more information and experience a session for myself?
If you're interested in receiving more information and scientific proof, please email us at:
info@Ascent-OC.com
or call (949) 474-4404. You may also schedule an appointment to experience a session for yourself.
Click Here To Purchase a BEMER for Home or Clinical use:
https://ascent.bemergroup.com/en-US
PEMF Orange County
Ascent
9494744404
3300 Irvine Avenue, Suite 200, Newport Beach, CA 92660
View Larger Map