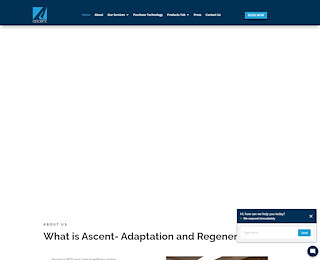 We have our bodies made of trillions of bricks called cells that interact with each other through electric impulses. But what should you do when your energy level is low, and you feel tired? You should visit Ascent Adaptation - your recharge center specialized in PEMF in Irvine.
How does a PEMF machine work?
A PEMF device will create a pulsatory electromagnetic field that stimulates cells to perform better, leading to increased wellbeing. We are using these machines in medical, chiropractor, or veterinary clinics for the health benefits they bring.
Healthy and tuned-up cells are a must for slowing down the aging process and for reducing the risk of illness. We are as healthy as our cells are, and a dysfunctional cell will lead sooner or later to a disease.
You can use the PEMF in Irvine even daily if needed if you have symptoms of an imbalance in your body. The device will help you with:
Relaxing the muscles and reducing the stress
Improving the blood circulation and tissues oxygenation and healing
Reducing the pains and swellings
Improving sleep quality
Balancing the immune system
Faster and better healing
What is the difference between TENS and PEMF?
A TENS device uses low voltage currents to stimulate the nerves while PEMF uses electromagnetic waves to repair the damaged cells. It is not only the way the two technologies operate, but we are using them for different purposes.
A PEMF device will not only alleviate pains but will also reduce inflammations, will simulate the neurons, and will create new, healthy cells. Both methods are considered to be part of the same electrotherapy group but with apparent differences. On the long term, a PEMF device is preferable since it goes for deep healing of the bloodstream giving a boost of energy to your full body.
Does PEMF therapy really work?
The most straightforward answer is yes. Being a non-invasive therapy, in combination with a healthy diet and regular exercise, can support a healing process. We are using the PEMF to complement other treatments and to assist with different conditions:
Ease pain – unlike painkillers which are, in many cases, a double-edged sword, PEMF is a drug-free therapy starting the relief process from inside your body. By rejuvenating and reenergizing the cells, the healing process removes the cause rather than concealing the effect.
Sleep management – the deep relaxation following a PEMF in Irvine session will help you fall asleep even if you have insomnia. The therapy is designed to relax both your mind and body by releasing melatonin and HGH into your system.
Stress reduction – when regularly used, PEMF will directly act on your endocrine and nervous system, changing your stress responses and helping you cope with it.
Although PEMF appears to be a novelty, physicians are using this technology in Europe for many years. For more information about the therapy, please call in confidence Ascent Adaptation, and we will provide you all the required details.
PEMF Irvine
Ascent
9494744404
3300 Irvine Avenue, Suite 200, Newport Beach, CA 92660
View Larger Map
We welcome your comments!