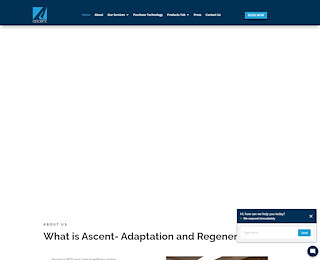 Ascent Adaptation is a high tech center that offers a variety of wellness therapies and rejuvenation treatments to improve quality of living. We are the only med spa in Costa Mesa to be equipped with state-of-the-art equipment and latest technology.
What does a medical spa offer?
A medical spa offers treatments like cosmetic skincare and therapeutic massages. Medical spas function under the supervision of a medical professional and provide treatment and wellness therapies in a soothing and comfortable environment. A medical resort is most famous for offering the following services to its clients:
Chemical peels
Hydra-dermabrasion procedure
Botox and Fillers
Microdermabrasion
Photo-rejuvenation and laser resurfacing
Skin pen
Acupuncture
Hydrotherapy and Balneotherapy
Massage therapy
Tissue tightening
Hair treatments, etc
Our med spa in Costa Mesa aids in body regeneration at the cellular level through technology-empowered physical conditioning. We achieve this with the help of world-class innovation like CVAC pod, Lightstim LED bed, InBody 770, and NanoVi Exo.
Benefits of a LED light therapy
LED light therapy is a relaxing, painless, and non-invasive treatment with multiple rejuvenation benefits. During a LED therapy, short bursts of multiple colored lights at different wavelengths are sent to the body simultaneously. This stimulates an increase in blood circulation and reduces inflammation. This treatment yields the best results in relieving pain and promoting healing and cellular regeneration.
LED light therapy is an FDA cleared treatment for reducing wrinkles and tightening skin. It leads to an increase in the levels of Adenosine Triphosphate produced in the cells, which is an essential fuel source for the body. In addition, the therapy leads to an increase in the production of Nitric Oxide, which can heal wounds faster while reducing bruises and scars.
This therapy has positive impacts on reducing redness and inflammation. It is an excellent treatment for protecting your cardiovascular health and keeping you safe from strokes and heart attacks. Apart from that, it also aids in improving conditions like muscle fatigue, cell damage by free radicals, post-exercise recovery, muscle regeneration, pain relief, and treating UV damage.
What is the difference between a med spa and regular spa?
Both regular and med spas offer the same relaxing environment; however, they differ in the treatments they offer. Medical spas usually have a certified medical professional on the team as staff. On the other hand, regular spas offer treatments that are non-medical in nature and do not have a doctor on the team.
The treatments available at a day spa usually focus on improving the appearance of the skin through procedures like facials, chemical peels, and microdermabrasion. Medspa treatments, on the other hand, focus on in-depth issues such as pigmentation, UV damage, discoloration, skin tightening, and wrinkles. Med spas offer treatments using injections and laser treatments, while regular spas offer topical therapies only.
To get rid of your insecurities relating to body image, appearance, and for a pain-free life, visit Ascent Adaptation. We offer the best cutting-edge technology for wellness at our med spa in Costa Mesa.
Med Spa Costa Mesa
Ascent
9494744404
3300 Irvine Avenue, Suite 200, Newport Beach, CA 92660
View Larger Map
We welcome your comments!